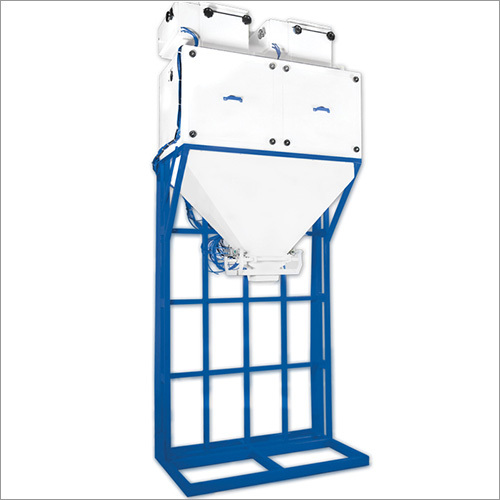 Grain Filling Machine
Product Description
Right from our establishment in this industry, we are engaged in manufacturing and exporting the best stock of Grain Filling Machine. This filling machine is available in different capacities for meeting clients' diverse requirements. Comes in single and double dosing options, this Grain Filling Machine is integrated with PLC & pneumatic based control system. We use stainless steel for weighing bin discharge and material feeder.
Features:
High level of weighing accuracy
Integrated with a color touch pad screen for display
Robust construction

Functions Of Grain Filling Machine
Fast and adaptable, the advancement of our grain filling machine provides flexible packaging with easy to use interface making it simple to regulate temperature demanded for best sealing standard. It is PLC regulated machine suits extra components at any phase. The wrinkle free fixing quality of our machine is outfitted with flexible vertical sealers effectively versatile to package breadth alterations. Our grain filling machine's plain panel attached conformity can suit pocket of any extent. Material is taken through the gravity hopper of machine, which is furnished with a double or more fold doors. The entryway shut in 2-3 stages and guarantees exact filling as exact weighing is performed by electronic regulator as well as exactness load cell. Further, our grain filling machine's regulator mounted on an exquisite panel can be effortlessly customized for fine and coarse feeding qualities as well as the set weight. Robotization of our machine is permitted with the assistance of electrical regulation instruments offered in the box of panel. Grain filling machines are provided in 2 versions for packing ranging from 10kgs to 1 tonne with dual and one dosing alternatives.
Ideal exactness (±15 gms Weighing precision)

PLC and Pneumatic based regulation system

Passage of screen through shading touch pad display

Untainted steel material for feeder material and measuring canister release

Jaws development setup for sack holder
Technical specification of Grain Packing Machine

Machine type

RGFA1

RGFB1

Weighing capacity ton/hour

Min 10kgs

Max 75kgs

Min 10kgs

Max 100kgs

Number of bags

75 kgs -2bags/ min

100 kgs -3 bags

50 kgs- 3 bags/ min

75 kgs -4bags/ min

25 kgs- 5 bags/ min

50 kgs -6 bags/ min

10 kgs- 8 bags/ min

25 kgs -8 bags/ min

10 kgs- 10 bags/ min

Volume of air required

8 ltrs / weighment

8 to 12ltrs / weighment

Air pressure required

5to6 bar

5to6 bar

Power supply required

415V / 3 Phase

415V / 3 Phase

Over all size LxWxH (mm)

800 x 800 x 2200

800 x 1600 x 2200

Weight (kg)

500

500