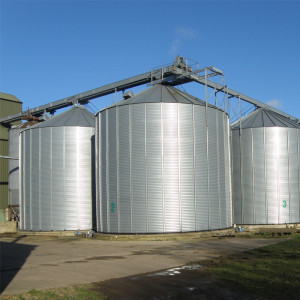 Grain Silos
Product Description
Since years, we ave been engaged in manufacturing and exporting the best range of Grain Silos. Available in varied capacities to meet clients' diverse needs, these silos are designed in galvanized and corrugated finishes. Highly suitable for safe storage of grains, these Grain Silos are manufactured using best quality materials. These silos protects the grains from dirt and dust. We stringently test the strength and ruggedness of these silos before the final dispatch in market.
Features:
Leak proof design
Rugged construction
Capable of withstanding adverse weather conditions
Structure And Usage of Grain Storage Silos

We provide galvanized silos and material handling machines for keeping grains. Electrified storehouse limit varies between 50 MT to 15000 MT or may be more. In addition, we give turnkey services beginning from the planning of the extremely cost saving storehouse system to meet the state of location. Furthermore, we additionally perform supervision and grain silos erection work. Our grain silos are cold and hot safe for which mastic is utilized in the conjuncts of sidewall sheets to give amazing sealing in every atmospheres. These silos are more versatile and cheaper alternative for littler lines. Similar advantages of air circulation, stirring, unloading and drying can be incorporated into a storehouse complex. The design of our silos provide many benefits as a building material such as good availability, flexible usage, easy processing and production and high performance. All this is required to guarantee financial productivity.


Complete Range Of Accessories Of Our Grain Silos
Stroll In Doors
Finish Ladder System
Elevated Strength Bolts
Examination Hatch
Rib And Cap Roof Panels
Rooftop Stairs Cleats
Divider Sheets
Ventilation Bottom And Cone
Content Marker
Temperature Estimation
Release Clear Twist Drill