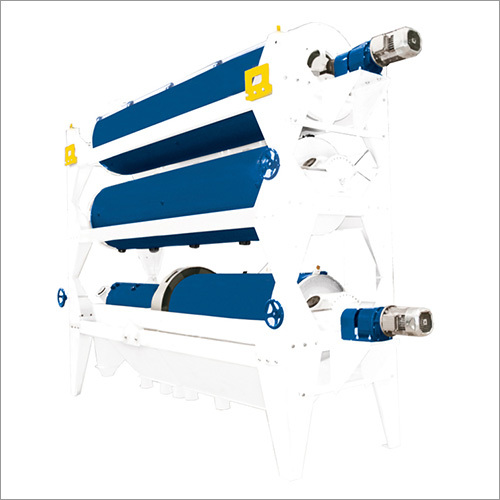 Length Grader
Product Description
Our company is acclaimed as one of the leading manufacturers and exporters of an excellent range of Length Grader. This grader is integrated with rotating indented cylinder for separating broken or shorter grains from the bulk. As the cylinder rotates, the shorter rice grains get lifted until a point where they are dislodged by gravity. The Length Grader has tear drop shaped indents for higher accuracy of separation.

Features:
Inbuilt self- cleaning mechanism
Equipped with sampling ports to monitor the degree of separation
Ensures optimum separation
LENGTH GRADER
MILLTEC Length grader has rotating concave cylinder to separate shorter or broken grain from whole grain considering their length. With the rotation of the cylinder, the shorter grains until a point where the grain is freed by gravity in a

ADVANTAGES
Low operating cost and easy maintenance
An inbuilt mechanism for self-cleaning to assure optimum separation.
One above the other modular construction of cylinders to save space.
Indents with tear drop shape for higher separation accuracy.
Outlets of the machine are outfitted with sampling ports to observe the degree of separation.
Technical specification
Machine type

RLGA1

RLGC1/3

RLGB2/2

RLGD1/6

RLGD3/2

Capacity ton/hour with pre cleaner

Medium Grain 2.5-3

Long grain 15-2

Medium Grain 2.5-3

Long grain 1.5-2

Medium Grain 4-5

Long grain 2.5-3

Medium Grain 1.5-2

Long grain 1-1.2

Medium Grain 7.5

Long grain 4.5

Gear Motor Power HP/KW

2/1.5

2/1.5-2 Nos

2/1.5-2 Nos

2/1.50-3 Nos

2/1.50-3 Nos

Voltage (VYF Frequency(Hz)

415/50

415/50

415/50

415/50

415/50

Working RPM

38

38

38

38

38

Cylinder screen diameter (mm)

700 x 3080.1 No

700 x 2580 2 No

700 x 2580 2 No

''700x3080-2 No

700 x 3080.3 No"

400x1050-1No

600x1545-1No

750x725-1No

750x7250-1No"

Weight (KG)

650

1200

1200

2200

1800

Overall size LxWxH (mm)

4369x1070x1380

4560x1250x2424

3934x1250x2424

5090x1256x3347

3934x1250x3636