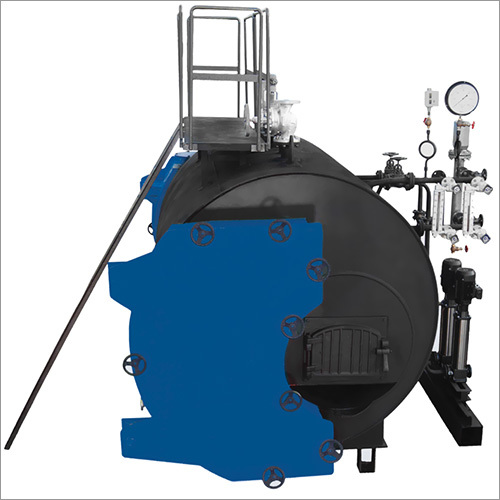 Packaged Boiler
Product Description
We are highly acclaimed as one of the leading manufacturers and exporters of best range of Packaged Boiler. Best known for its high thermal efficiency, this boiler is fully automatic in operation. This is a solid fuel fired IBR steam boiler which is specially designed as per Indian Boiler regulations. This Packaged Boiler is specially manufactured and developed for ease of operation and maintenance. We offer this boiler to clients at competitive price.
Integrated with:

Pneumatic over feed

Three pass and wet pack
Benefits of Skid Package Boilers

Industrial boiler is the another name of our packaged boiler, which is amongst solitary usage that gets its vitality from an incorporated apparatus that, in our plan, is powered by oil or gas. It is able to create vast steam yield at an elevated pressure and temperature. Our product is fit for working with variable loads as well as possesses a short response/start up time. There are numerous machines for package boiler, among various other the mechanism can be utilized to produce procedure steam for chemical or industrial procedures, or as energy generator in blend with a turbine of steam. Our product can be utilized like a top load boiler, as an urgency generator or like a supplement to option heat, steam or power supply that kicks in the case in which different supplies fails.


Intended For Simple Handling And Easy Working
Extreme Level Of Heat Efficiency
Wet Pack, Packaged Boiler, Pneumatic Over Feed And Three Pass
Technical specifications of Packaged Boilers
| | | | | | | |
| --- | --- | --- | --- | --- | --- | --- |
| Boiler capacity | 2T | 2.5T | 3T | 4T | 4.5T | 5T |
| Max steam output F&A 100ºC | 2,000kg/hr | 2,500kg/hr | 3,000kg/hr | 4,000kg/hr | 4,500kg/hr | 5000kg/hr |
| Type | 3 pass multi tubular | 3 pass multi tubular | 3 pass multi tubular | 3 pass multi tubular | 3 pass multi tubular | 3 pass multi tubular |
| Max operating pressure | 10.54kg/cm² | 10.54kg/cm² | 10.54kg/cm² | 10.54kg/cm² | 10.54kg/cm² | 10.54kg/cm² |
| Fuel consumption(based on 3.500kcal/kg) | 429kgs/hr | 540kgs/hr | 642kgs/hr | 857kgs/hr | 964kgs/hr | 1071kgs/hr |
| Total connected load | 16 hp | 20.5 hp | 23 hp | 30 hp | 55 hp | 55 hp |
| Thermal efficiency | 72%+/-2% | 72%+/-2% | 72%+/-2% | 72%+/-2% | 72%+/-2% | 72%+/-2% |