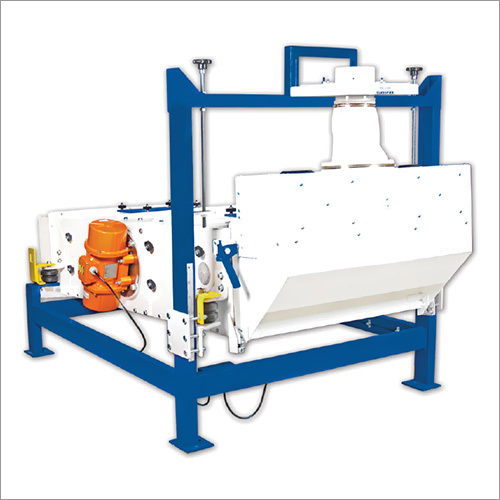 Pulse Cleaning Machine
Product Description
We have garnered immense appreciation from clients for manufacturing and exporting high end quality Pulse Cleaning Machine. We offer this cleaning machine to clients in a wide range of capacities and specifications depending on their application requirements. Integrated with advanced cleaning system, this machine is suitable for all varieties of pulses. This Pulse Cleaning Machine efficiently removes husk, straw and stones from the bulk stock of pluses.

Features:
Completely corrosion free
Consumes less power
Requires less maintenance

Pulse Cleaning Machine Process
Our pulse cleaning machine can dependably divide oversized and undersized contamination from sustenance grains. Reviewing item as per diverse size can additionally be possible by this machine. The incorporated auto-cleaning system guarantees most extreme proficiency amid the cycle of manufacturing. The main technique for cleaning of seed is the air-screen isolator. It utilizes a blend of air, screens and gravity to split seed grounded on shape, density and size. The pulses in our pulse cleaning machine are sustained into the container where they are uniformly spaced by roller of feed and exchanged via a regulated entryway on the top strainer. In the procedure, the pulses are subjected to essential desire by the utilization of air trunk, which depletes off dust, deceased grains, chaff or straw. At that point the material is gone through strainer layer for detachment as indicated by their thickness and width. After the detachment, the evaluated material is subjected to air siever as well as aspiration chamber where remnant light particles are drawn off by a solid upward draft of air. The reviewed material and the contamination are naturally released in independent chutes of our pulse cleaning machine.
Point of toss can be balanced by edge controller

Capacities varying between 3TPH to 12 TPH

Working free from dust

Exact screens to help detachment of high productivity

Low handling and sturdy development
Technical Specifications of Pulse Cleaning Machine

Machine Type

RCLA1

RCLC1

RCLB1

RCLD1




Medium Grain

Long Grain

Long Grain

Medium Grain

Medium Grain

Long Grain




Capacity Ton/hour with precleaner

6-8

4-5

6-8

4-5

8-12

5-8




Capacity (ton/hour) For Rice



















2-3

Vibromotor Power (Hp/Kw)

0.50/0.37-2 Nos

0.50/0.37-2 Nos

1/0.75-2 Nos

0.50/0.37-2 Nos

Voltage (V) Frequency (Hz)

415/50

415/50

415/50

415/50

Aspiration (CMM)

90

90

135

90

Weight (kg)

650

780

1300

740

Overall Size LxWxH (mm)

2659x1482x1674

2632x1502x1662

2659x1998x1729

2752x1482x1643