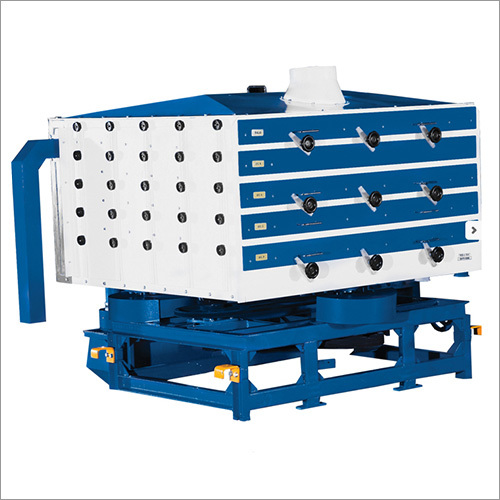 Rotary Sifter
Product Description
We have marked a great niche in this industry for manufacturing and exporting the best range of Rotary Sifter. This machine is capable of sifting milled grains efficiently and accurately into different classes such as large broken, medium broken, small broken, tips and bran. This Rotary Sifter initiates horizontal circular movement which gives grains active play in the spacious sieve area, resulting in efficient and accurate sifting. In addition, the free- moving rubber cleaners prevent clogging in the mesh thus accelerating smooth passage of grains through sieves.
Features:
Sturdy body construction
Easy assembly and maintenance

Long working life

Rice Rotary Sifter Design and Features

The handling amiable design of our rotary sifter permits huge, speedy opening entrance doors to be effectively introduced that guarantee accession to the chamber of sifter as well as all interior operating components. Almost no apparatuses are demanded for screen outline structure changes as well as replacing or changing these screens takes only few minutes. The machine is particularly viable when there is an unmistakable contrast in size, e.g. the partition of little brokens from rice grain. Our rotary sifter can additionally be utilized for proficient size detachment of wheat, beans and different products. The horizontal flow development provides rice grains dynamic play in the roomy strainer place, ensuing in accurate and efficient sifting. Independent-moving elastic cleaners avert the work from stopping up, which quickens smooth entry of grains through strainers. The fixed sifter outline averts dirt from getting away from the machine, which guarantees clean working and enhances plant sanitation.

MILLTEC gives a multipurpose rotating sifter that can isolate input rice into different classes.


Highlights of Rotary Sifter
2 Phase RPM Decrease, 117 RPM
Bother Free Working And Prolonged Life By Exceptionally Precise Rotating Process
Powerful Development
Working Of Wedge Cinching For Positive Airtight And Better Strainer Bracing, Which Enhances Execution.
Frame Of Wooden Sieve
Technical specification
| | |
| --- | --- |
| Machine type | RSIC 1 |
| Capacity ton / hour | 3-5 |
| Grea motor HP/ KW | 2/1.5 |
| Voltage (VYF Frequency(Hz) | 41/50 |
| Motor RPM | 1440 |
| No of sieve | 5 |
| No of sieve outlet | 5 |
| Weight (kgs) | 1100 |
| Over all size LxWxH | 1550X1780X1600 |