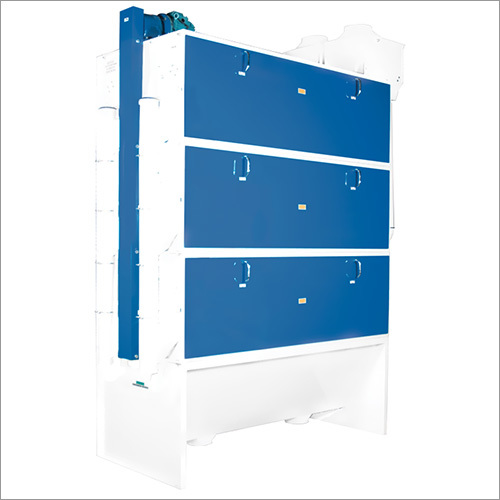 Thickness Grader
Product Description
We are highly acclaimed for manufacturing and exporting the best stock of Thickness Grader. This equipment is used for separating out the grains in brown rice and polished rice based on their thickness. The grains are passed through revolving cylindrical screens, for separating oversized and undersized grains from the bulk stock. In addition, this Thickness Grader ensures excellent accuracy of separation. An integrated cleaning brush counter in the machine rotates with the drum to avoid choking of slots.

Features:
Can be attached with customized sieves to suit various application requirements
Corrosion proof resistant
Long lasting performance

Thickness Grader
This machine is utilized to separate grains of varied thickness in polished/ brown rice. Undersized or oversized grains are separated by passing the material through cylindrical screens. The machine is highly reliable in the separation of admixture of under size and over size grains. This can also be utilized to separate broken and immature grains, etc.
ADVANTAGES
Correctness of separation is assured by a specially designed cylindrical screen.
An in-built cleaning brush rotates counter to the drum to prevent slots from choking
Selection of sieves can be customized to match different applications.
Variable speed drive can also be fitted (optional)
Technical specification
Machine type

RTGA1

RTGB1

RTGC1

Capacity ton/hour

Thick 4

Thin 3

Thick 6

Thin 5

Thick 10

Thin 8

Motor power HP/KW

0.50/0.37

1.0/0.735

2/1.5

Gear Voltage (VYF Frequency(Hz)

415/50

415/50

415/50

Working RPM

189.0

181.0

181.0

Aspiration (CMM)

5.0

5.0

5.0

Weight (KG)

430

620

840

Overall size LxWxH (mm)

2188 x 870 x 1700

2188 x 870 x 2898

2188 x 870 x 2898