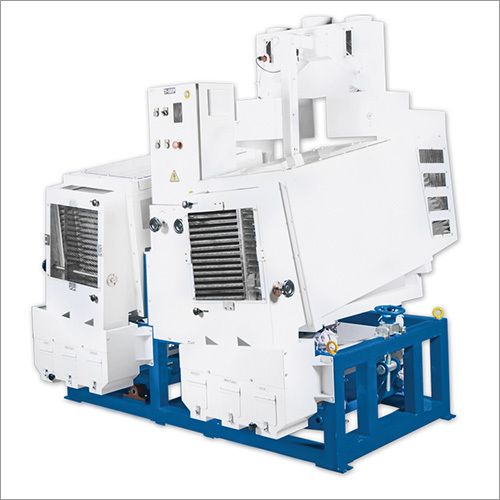 Tray Paddy Separator
Product Description
Fully equipped with all the modern in- house facilities, we are acknowledged as the topmost manufacturer and exporter of an excellent range of Tray Paddy Separator. It is specially developed and manufactured for high capacity and efficiently separating contaminants from paddy and brown rice. Tray Paddy Separator has an oscillating tray type design with higher output. The separation in this equipment is carried out in three distinct classifications viz. paddy, brown rice and mixture.
Features:
Stainless steel trays for minimum wear and tear
Inbuilt sensor for flow indication
Adjustable speed

Tray Paddy Separator Uses and Functions
Our tray paddy separator is utilized to separate heavy and light debasements such as straw, dust and so on. It operates on the standard of gravity with the assistance of flexible plate plan. Our product is broadly utilized as a part of different farming and other related businesses. It isolates the blend into three sections that are paddy mixture, brown rice and paddy. The plain design of our tray paddy separator demands least handling as well as the precision level is essentially great. The functions of our machine based on appropriate speed, gaps on the plate, distinctive base of paddy rice-rice is fluffy while brown rice is gleaming, incline of the plant and streaming frequency of rice in the separator.
The high limit machine is extraordinarily intended for competently isolating paddy and brown rice.
Flexible speed with higher yield (discretionary)
Wavering plate sort
Stream sign sensor
Three special order detachment: Brown Rice, paddy and blend
Insignificant wear and tear because of stainless steel plates.
Technical specification of Paddy Separator

Machine type

RTSA1

RTSB1

Capacity ton/hour

Medium Grain 3.5-5

Long Grain 2-3

Medium Grain 6-12

Long Grain 4-8

Motor power HP/KW

3/2.2

3/2.2

Voltage (VYF Frequency(Hz)

415/50

415/50

Working RPM

240

270

Aspiration

5

10

Weight (KG)

800

1100

Overall size LxWxH (mm)

1290 x 1675 x 2153

1987 x 1678 x 2153